"Mark was the hit of our party!" – M.I.T.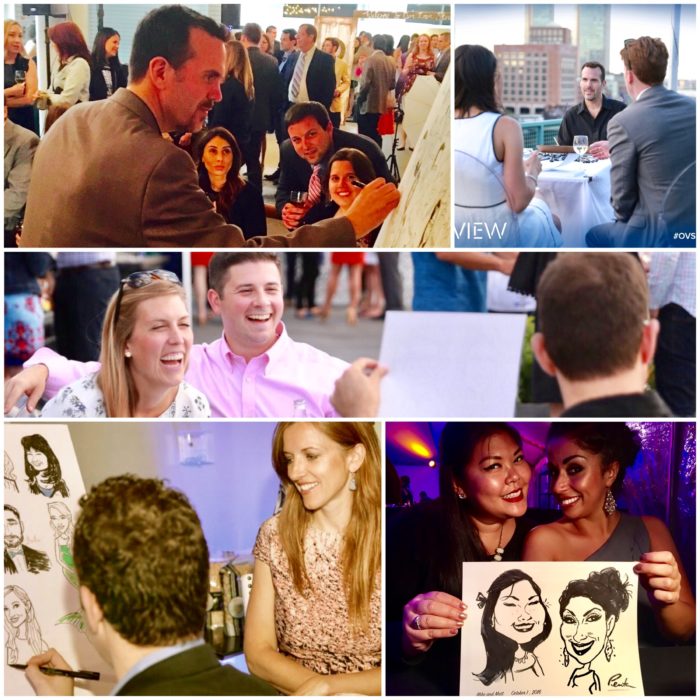 Book me to draw at your event! My clients include…


"The cruise director had great things to say about you. It is always a pleasure to have you on board our ships." – Celebrity Cruises
I have 25 years experience drawing at hundreds of corporate and private events across Greater Boston and around the world. 
Conferences
Trade Shows
Weddings
Corporate Events
College & School Events
Holiday Parties
Birthdays
Anniversaries
Bar / Bat Mitzvahs
Your guests will love being drawn! It's entertaining…a fun and memorable traffic stopper, ice-breaker, and keepsake. You'll get praised for coming up with "such a cool idea!" Smiles and laughter guaranteed!
For extra large events, I can book Boston's best artists for you.
Which live caricature experience would you like for your event? I offer…
Traditional Caricatures

Fast and fun! Drawn with archival ink on heavy paper. Up to 18 people drawn per hour. Fee: $150 per hour. (2 hours min.) I can book additional artists to draw with me. **Additional fees may apply depending on event details like travel distance, parking fees & holiday dates. (Discounts possible for multi-day trade shows.)
Digital Caricatures

Drawn on my iPad Pro, with a 32″ TV display and 4×6″ glossy prints for guests. This modern technology adds extra entertainment value at your event! Approx. 10 color caricatures drawn per hour. Fee: $250 per hour. (2 hours min.)  Guests watch my drawings unfold in real time on the TV monitor. Digital files are delivered after the event (or sometimes 'airdropped' immediately to guests). Discounts offered for events over 5 hours (like multi-day trade shows.) Additional artists available.
Group Caricature


A "party collage" of guests in one group picture! Up to 20 guests drawn per hour. Fee: $150 per hour, plus supplies. I'm the only artist in Boston offering this unique idea! Guests pose for me one-by-one, they sign their caricature, and you (the host) keep this one-of-a-kind picture as a special memento. I've drawn these at weddings, clubs, showers, and company dinners. **Additional fees may apply for travel to your event, parking fees, holidays, etc.
"Mark is a one-of-a-kind addition to any party or social experience. He has given us the gift of unique, personalized treasures to have forever." – Carolyn Kim, The Good Ones (event planners).
Contact me about your event! (…also, visit my comprehensive event site, here!)