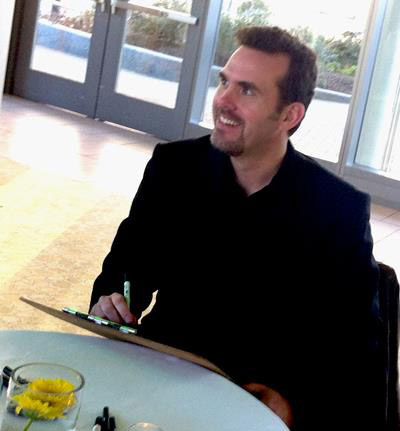 The quick version:
University of Hartford Art School graduate with a BFA in Illustration

Published author/illustrator of several books

25+ years experience drawing thousands of people at corporate events across the US and internationally

Clients include Google, Harvard Law School, Boston Red Sox, Celebrity Cruises, Barnes & Noble

Drawing instructor at schools like RISD and taught countless private lessons to all ages

Lives in Framingham, Massachusetts
My Story
I've been drawing since I was 3 years old. It all started with doodles of Batman on my mom's wallpaper. Then it was Star Wars characters and my favorite rock stars. I grew up drawing people  – my favorite subject.
In the summer of 1990, during my break from art school (I went to the University of Hartford and majored in illustration), I got paid to draw caricatures at a popular Cape Cod restaurant. At that time I never realized I could earn money doing what came naturally. I had a blast, my drawings made people laugh, and I was hooked. For the next few summers I drew thousands of tourists in Faneuil Hall Marketplace in Boston.
Meantime, I pursued my "serious" illustration work. I illustrated stories for Alfred Hitchcock and Asimov magazines. I drew artwork for billboards, businesses, and book covers.
I also started teaching drawing lessons. I worked for several New England schools, including RISD, Mass Bay, Dean College, and other continuing ed programs. Teaching cartooning to kids inspired me to make my own comics. Teaching adults how to draw realistically was especially gratifying.
People started hiring me to draw at their parties, then corporate events, then it was a business. I started booking other artists to draw with me. Because of my caricaturing skills, I've traveled to some of the most amazing cities in the world, entertaining guests on cruise ships and at countless corporate events across Greater Boston and the U.S. My caricature clients include Google, Bose, Celebrity Cruises, Barnes & Noble, and many more.
In recent years, I've pursued my dream of authoring and illustrating my own books. My first published book was Cape Cod Invasion! (Commonwealth Editions, 2007), then Young Jesus Chronicles (Andrews McMeel, 2010), the Wicked Weird Story Starters series (2014-2016), and a collection of sketchbook work, Mark Penta's Sketchbook (2015).
And so, I've juggled a few drawing styles over the years. I love them all equally and feel lucky to have found success with each style. I feel blessed to be an artist and to share my work with others. I plan to keep at it, so thanks for following me and my work!