I'm the author/illustrator (or co-author) of 6 books. (2 traditionally published, 4 self-published).
Each is available for sale…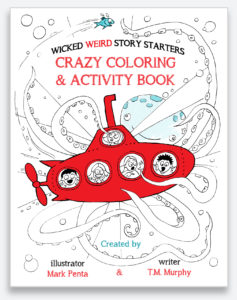 WICKED WEIRD STORY STARTERS: CRAZY COLORING & ACTIVITY BOOK is the second book in my WWSS series which I co-created with writer T.M. Murphy. Fun for kids of all ages, this is a book the whole family can enjoy. Each page provides an opportunity to color, draw, and write wicked weird stories. Our motto is "Get Kids Creating". This book does just that – mission accomplished! I've watched siblings team up to color the pages together. I never expected that, and I'm thrilled. Parents love it for that reason, and teachers love giving their students a book that sparks their imagination and creativity.
Buy yours on Amazon.com!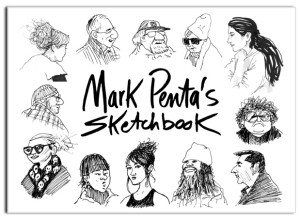 MARK PENTA'S SKETCHBOOK contains 20 years' worth of my personal sketchbook art — drawings of real people that I saw (and stealthily drew) in restaurants, bars, coffee shops, malls and other public places. Created between the years 1995-2015, the drawings are presented in chronological order. Makes a fun coffee table book or a great gift for anyone interested in how I capture faces and personalities on paper. I'm glad to finally share this slice of my creative life!
Buy yours on Amazon.com!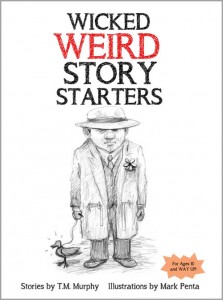 WICKED WEIRD STORY STARTERS is a book that I co-authored with writer T.M. Murphy. It contains 24 "silly, strange, scary, and suspenseful" tales accompanied by an illustration of an unusual character. These short stories can be enjoyed as-is, however, each one ends with a cliffhanger and that's where the fun begins – kids (ages 10 and up) can use their imaginations to finish writing the stories using the blank pages provided in the back of the book. WICKED WEIRD STORY STARTERS will surely spark creativity in kids and adults!
Buy yours on Amazon.com!
Visit: www.TheStoryStarters.com to learn more about the book, hear our NPR interview, and learn more about having us visit your school!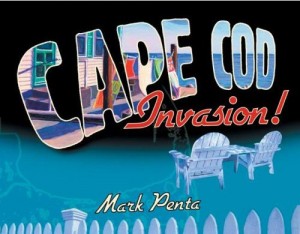 CAPE COD INVASION!
 is a 32 page full color picture book I wrote and illustrated. Published by Commonwealth Editions, it celebrates summertime on Cape Cod, depicting familiar places in almost every town. But there's a twist — flying saucers appear in the skies of every scene – "visitors", like tourists, invading the Cape. This makes a lovely coffee table book, souvenir, or gift for anyone who loves Cape Cod. I now own all the inventory.
I can sell you copies myself, just ask! See illustrations from the book

here

. Contact me to order a signed copy.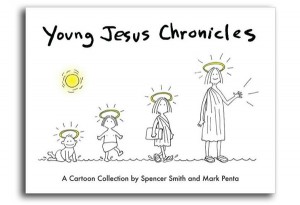 YOUNG JESUS CHRONICLES
is a book of cartoons that I co-authored and illustrated. It was a self-publishing success story; after selling copies in Boston bookstores it was picked up by a major publisher, Andrew McMeel, the world's largest publisher of cartoon art. With our Catholic upbringing, my co-author and I realized not much was written in the Bible about Jesus' childhood, and so we created 80 lighthearted cartoons to fill in the blanks. The book was "praised" by priests and CCD teachers for being funny without being offensive. It makes a great Christmas gift!
Buy yours on Amazon.com.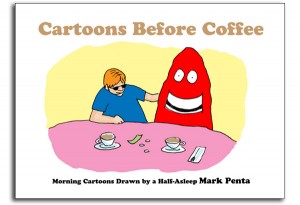 CARTOONS BEFORE COFFEE is a self-published book of gag cartoons conceived as a morning drawing exercise to amuse my Facebook friends. My goal was simple; to roll out of bed, grab a pen, and quickly draw a cartoon before sipping my first cup of coffee. No penciling, no erasing, no perfection, just wacky fun. The result is offbeat for sure! They're strange. They're curious. They're caffeine-free…They're 'Cartoons Before Coffee'! (Rated PG).
Buy yours on Amazon.com!