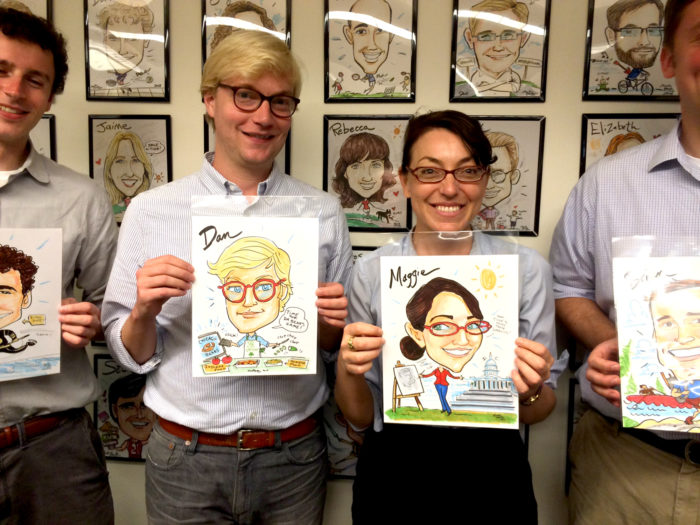 Lighten up your office space with my caricatures of your staff! If your company is located in the Boston area, I make house calls. Just choose a work day for me to appear, reserve an empty office or conference room, and schedule each employee to pose for me one-by-one. Then hang the drawings on the office cubicles, walls, and doors!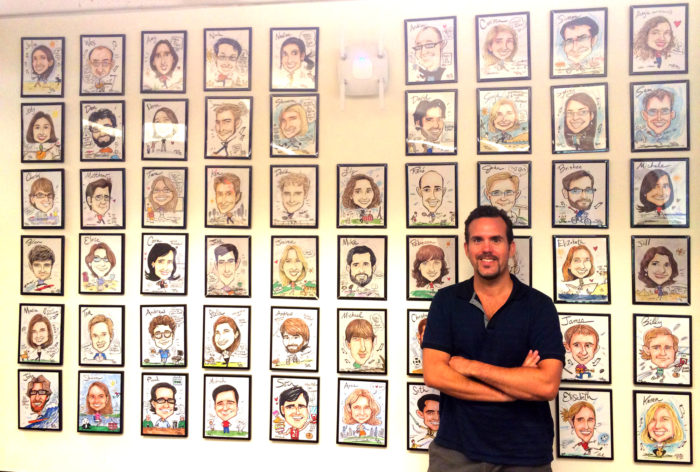 (Harvard Law School hires me to draw their visiting professors every year.)
Why do companies love this idea?
I write each employee's name on their caricature and draw everyone doing a hobby they love. This enables the staff to get to know each other better and faster. And did I mention how it lightens up the workplace?
If I can't get to your company location in person, I can draw your employees from photos!
International service! All I need is a PDF file with everyone's photo, name and hobby, and I'll either ship or email your art.
Some companies call me year after year to draw the newest staff!
Fees:
For in-person office visits around Greater Boston, I currently charge $150 per hour. You should plan to schedule 4 people per hour for color caricatures. Drawings are made with ink on 8.5 x 11″ card stock paper. (frames not included)
For office caricatures drawn from photographs, estimate $70 per person drawn. (drawing from photos is more time consuming.) Shipping is extra, unless we agree on digital caricatures which can be emailed – simply print the caricatures.
Contact me  to transform your work environment today!