It's always fun drawing celebrities that I like and then seeing their reactions to my artwork. It's especially flattering when they retweet, "like", or comment about my sketches to their fans. Scroll down to see…
Boston's Mayor Marty Walsh
(Naral Pro-Choice of Massachusetts commissioned me to sketch the Mayor. He was presented with my drawing at an awards dinner, and apparently asked, "Is my nose really that big?"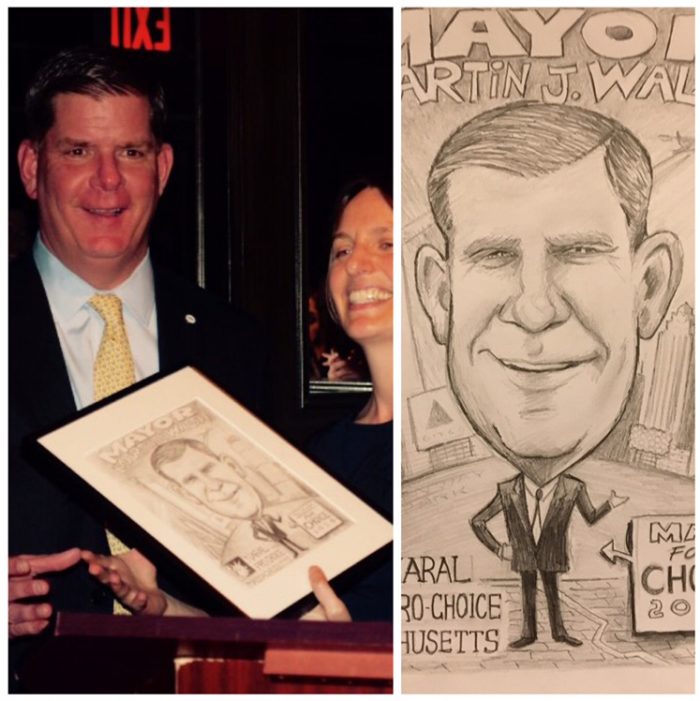 Mark Hamill (aka Luke Skywalker)
After Star Wars: The Force Awakens came out, I doodled this cartoon and posted it to Mark Hamill's attention on Twitter. Within 10 minutes, he retweeted the comic to his 1.7 million fans along with a funny reply to my comment.
What a thrill for me as a lifelong Star Wars fan!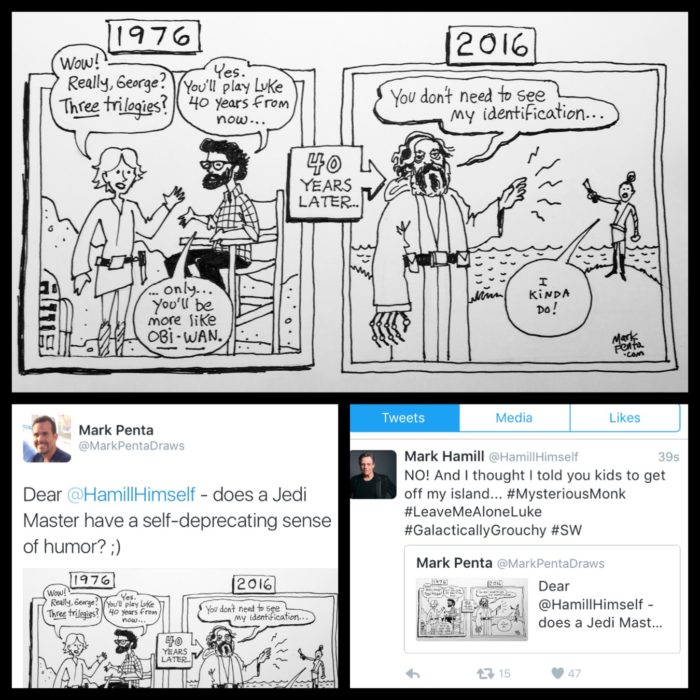 Supermodel Cindy Crawford and Comedian Marc Maron
One morning I was having coffee in Starbucks while listening to comedian Marc Maron interviewing Cindy Crawford on his popular WTF podcast. I quickly sketched this picture, posted it to their attention on Twitter, and within 5 minutes Marc retweeted it to his followers. The next day, my phone dinged with a Twitter notification. I looked at it. It said, "Cindy Crawford Liked Your Tweet". Okay, I can die now. 😉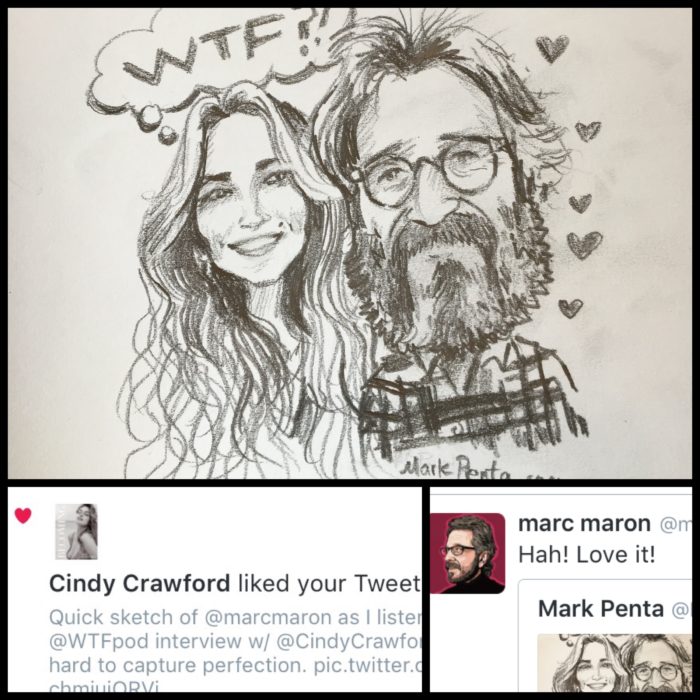 The cast of AMC TV's 'Better Call Saul'
Better Call Saul is the excellent "prequel" show to Breaking Bad. I sketched the cast one day, posted the drawing on Twitter, and got replies from actors Michael McKean (of Laverne & Shirley and Spinal Tap fame) and Michael Mando.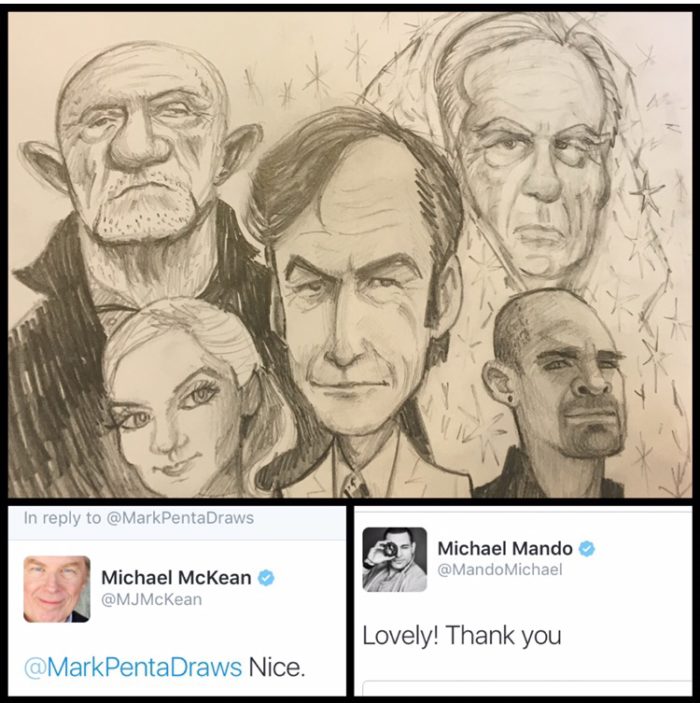 Carla Gugino
Movie & TV actress Carla Gugino has appeared in Sin City, Wayward Pines, American Gangster and Watchmen. One night she was live tweeting during the HBO debut of her movie San Andreas, co-starring The Rock. I whipped up this sketch, posted it to her attention, and within minutes, bingo.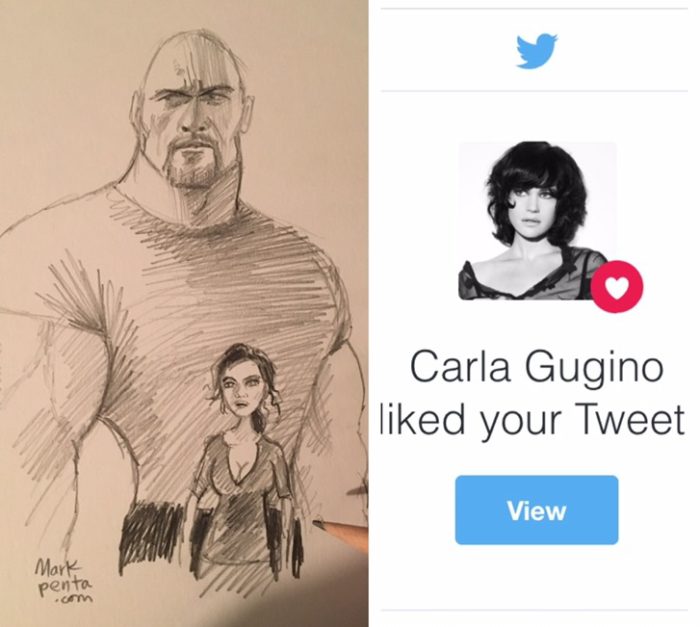 Nia Vardalos
The 'My Big Fat Greek Wedding' actress showed up at my local Barnes & Noble one day, and I sketched her quickly. "You made me look too good," she joked, "You drew the wrong Greek girl — this is Maria Menounos."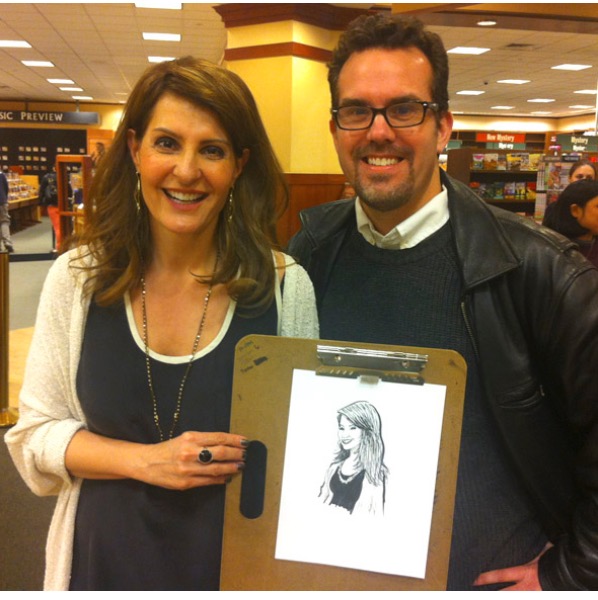 American Idol
During the last season of American Idol, I posted this sketch of judges Keith Urban, Jennifer Lopez, and Harry Connick Jr. on Twitter and got a kind reaction from the official American Idol Twitter account.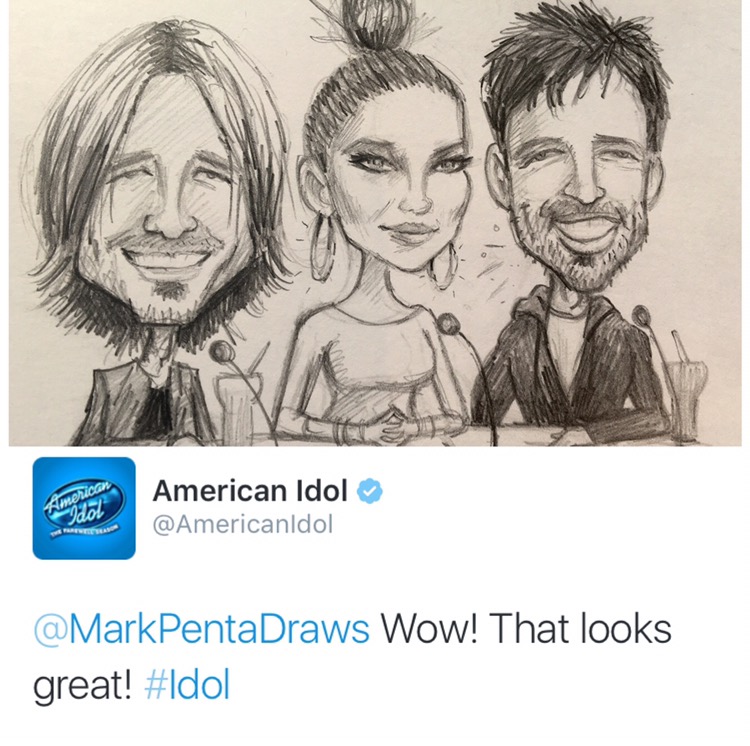 Feel free to contact me if you're interested in my celebrity artwork.